Are you worried about your Grey parrot diet? Do you want to know the best pellet food for African Grey parrot? Are you searching for what foods are bad for African Grey parrots?
If your answer is affirmative then opportunely you have gone through a right-click. Just read out the article, "Best Parrot Food For African Grey" and all your questions will be answered.
Food for African Grey parrots should be balanced. It should contain all the essential nutrients for a healthy and fitter life for your Grey parrot.
Best Parrot Food For African Grey
The best pellet food for African Grey parrot is Kaytee Exact Rainbow Parrot. It is suggested by avian to be the complete diet for a parrot as a pet.
This diet contains Omega-3 and special nutrients. Kaytee Exact Rainbow Parrot regular and proper usage results in better feathering and brighter coloring, as a whole, complete heath of parrot is maintained.
Pretty bird African Grey Special complete food package has added calcium in it to keep Grey fit and healthy. Lafeber NutriBerries contains 40 special added nutrients. It is available in five flavors. The flavors names are Original, Tropical, Garden Veggie, Sunny Orchard, and El Paso.
ZuPreem FruitBlend Flavor Parrot and Conure Bird Food is the best bird food for Conures. It has fruit-based colors which encourage parrots to eat.
Parrot eat pelleted food due to the reason that it contains 60-80% of their daily complete diet. But parrot eating must also involve vegetables, fruits, and seeds.
Have a look at the various pelleted food for parrots that contain all nutrients in balance. The deficiencies or excessiveness both can harm your parrot's health.
What Kind Of Food Does African Eat?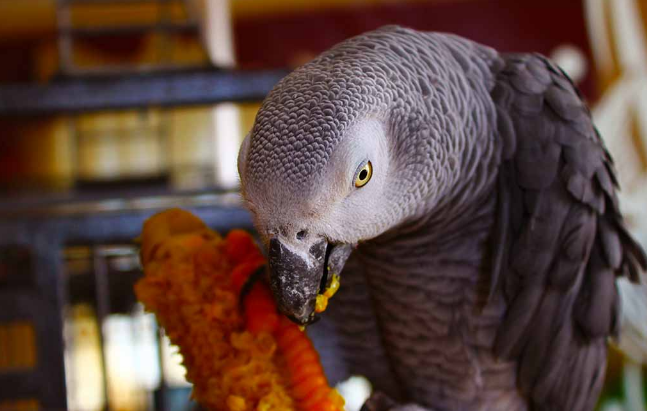 The first question that arises to mind after adopting the Grey parrot, is what food do African eat? Here we will give you the answer and whole details.
Food for African Grey Parrots includes sprouting and soaking seeds that are rich in minerals, vitamins, proteins, and enzymes. They are low in fats.
Fresh vegetables are what a parrot eat. You can serve them broccoli, spinach, Brussels sprouts, and kale. You can give them a vegetable crunch mix so that your parrot eat a lot and up to the mark.
Beetroot is rich in fiber that increases antioxidant enzymes. It enhances white blood cells. Carrots as a source of dietary fibers are known for maintaining the immune system and improving vision. It is also a good source of vitamin A as an African Grey food.
Pumpkin seeds keep the heart-healthy. They have an anti-inflammatory effect. It contains Omega-3 fats. Soya mince is low in saturated fats. It is known to keep the heart in a healthy condition.
All these nutrients delivered in diet can increase the lifespan of tropical colorful birds. Parrot life expectancy can be enhanced by this kind of parrot food.
Best Parrot Food For African Grey
Parrot as a pet is considered to be the best and easiest. They can be taught to talk. An African Grey parrot is the smartest parrot known on Earth.
African Grey food is a matter of concern for the owners. Parrot eat pelleted foods of different and renowned brands as well as they can eat fruits, veggies, seeds, grains, etc.
Parrot food should contain all the essential nutrients such as amino acids, vitamins, and minerals. This balanced diet can increase the lifespan of a parrot.
The best parrot food for African Grey is Parrot Premium Professional Seed. This parrot food has extruded pellet if your parrot has a deficiency of any nutrient. This food contains rowan berries, melon seeds, elderberries, etc.
Cedar nuts, walnuts, and palm nuts are included in Tidymix Nut Supreme. Fruit cups, Vitapol Treat Sticks, and Oven Fresh Birdie Munchies are also considered the best parrot food.
African Grey Parrot Food Recipes
African Grey Parrot food recipes are the topic of interest for owners who want to give their parrots the best parrot food. Parrot families are widespread in the whole world so parrot breeds can enjoy food from every corner of the world.
Soak the sprouting or soaking seeds in water for a couple of days. Then rinse and serve your parrot.
Provide them fresh vegetables in a bowl. But the owner should remove uneaten veggies to save Congo African Grey from eating rotten veggies.
A vegetable mix is a blend of many different vegetables. Carrot slices, beetroot slices, soya mince, and pumpkin seeds are mixed in it. You can pour this mix in his separate bowl or put this in your African Grey food place.
Fresh fruits which your parrot eat should be given regularly or after one day off. The fruits must be cut and put in his bowl. You can also fasten them to a fruit skewer. Remove any uneaten fruit pieces to avoid rotting.
Grey Parrot likes dried fruits too. These fruits also have the same nutritional values as the fresh ones. Banana chips, coconut, figs, pineapples, apple, mango, and pumpkins are the best-dried fruits.
African Grey Food List
African Grey food list is a good-to-go list to see what is included in African Grey food. Parrot eat eggs that have vitamin A, D3, calcium, and proteins in them.
Vitamin A strengthens beak and nails. Proteins build and repair muscle tissues. A Grey food consisting of proteins has also a positive impact on the reproductive system.
The eggs and eggs shells both are beneficial for parrots as a pet or in the wild. Vegetables, in a raw state, are the best for African Grey parrots.
Beta-carotene present in carrots should be given. Veggies should be more than fruits in the parrot diet. Fruits if eaten more can contribute to yeast problems.
Mangoes, bananas, apples, pomegranate, and papayas are well hydration-providing fruits. Baked eggshells, hazelnuts, and almonds are included in the African Grey food list.
Caffeine, chocolate, avocado, sugary or salty snacks are prohibited in the African Grey diet plan.
Best Pellet Food For African Grey Parrot
Those days are gone when the wild-caught African Greys refused to eat the wholesome pelleted diet. They only half-heartedly eat other fresh parrot food.
Research-based African Grey food pellet like Harrisons Bird Food is just perfect. It forms the basis of African Grey food and can be fed in combination with other foods.
A variety of the best pellet food for African Grey parrot is available online or in physical markets. While choosing food for African Grey parrots you must remember their intelligence and need for mental stimulation.
The ZuPreem FruitBlend Flavor is an accurate parrot food if you are searching for the best pellet food for African Grey parrot. This African Grey food has fruity colors to motivate your bird to eat.
The ZuPreem Natural is another best Grey parrot pelleted food. This food contains nutrients like vitamins, amino acids, and minerals. This parrot food also has a reasonable price when compared to other African Grey food available in the market.
What Foods Are Bad For African Grey Parrots?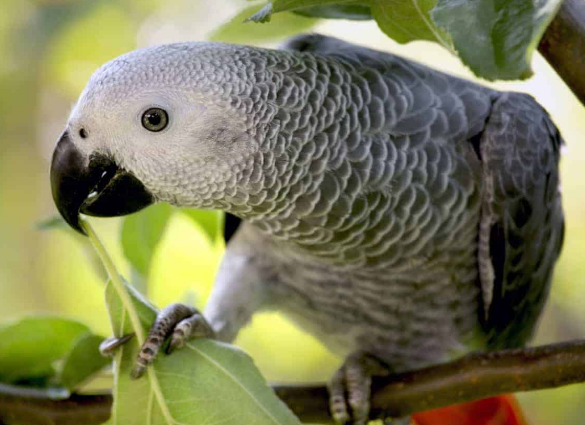 What foods are bad for African Grey parrots? Here I will discuss some of the eatables that should not be fed to your Grey parrot.
The African Grey food should not contain chocolate. It can cause Methylxanthine toxicity, leading to the death of your smartest parrot.
The food for African Grey parrots must not include Avocado. It can cause edema in the pectoral area.
The alcohol should be completely avoided in parrot food. Alcohol can depress the organ system thereby causing death.
You should not add caffeine to your Grey parrot food. It can cause cardiac malfunction leading to cardiac arrest, and hyperactivity.
Can African Grey Parrots Eat Bananas?
You can use bananas as food for African grey parrots because they make up for the deficiency of essential vitamins. This vitamin A and C is the basic component of African grey food.
African grey parrot is considered a wild bird so his diet is also natural and organic. The Grey parrot eats wild herbs, nuts, fruit, berries, and leaves of palm trees. The Parrot lovers are worried about what food do African eat?
It should be the main concern that when you take them home you have to find an alternate of wild feed. It is easy for you to find the nutritional alternatives of grey parrot.
A grey parrot as the pet will need something full of calcium, vitamin A, C, B3, D, and a minor amount of fatty acids. It should be included in African grey food.
You should be careful in balancing the level of calcium and fatty acids. So it can increase the health of your parrot.
What Do Parrots Eat?
All species of parrots were wild birds so they love to eat a wild and natural diet. Nuts are considered the favorite diet of parrots.
Parrot food in the home should be a mixture of different fruits, vegetables, and other nutritional seeds. It should be mixed because parrots need all the vitamins and calcium requirements to be fulfilled in one diet.
The parrot eat cooked grains, steamed vegetables, and fruits. Seed is the junk food for a parrot as they love to eat them but it is as healthier as vegetables or other nutritional diets.
A parrot can eat only those foods which are free from extra fats and sugars. You should avoid the use of caffeine (tea, coffee, and alcohol-containing materials).
In parrot food, we should be careful that everything should be chopped properly so it makes them easy to digest food.
What Is The Best Food For Parrots?
Do most people have a question in their mind that what will the best food for conures? We have to focus on all the essential nutrients for a parrot and make a selection of diet.
The food best for parrots should be enriched with calcium and vitamins which give energy to parrots and help them in their growth.
Parrot eating behavior and nutritional need of every parrot decide that what will be the best parrot food. The proportion of the diet should be divided to provide all nutrition daily.
Seeds, nuts make up less than half of his daily diet. The other half is made up of the calcium and vitamins present in vegetables, fruits, and grains.
Considering all parrot food as a primary concern, the number of times you choose to feed the parrot should be your secondary concern to keep your parrot healthy.
Takeaway
Terminating my article, "Best Parrot Food For African Grey". I would only suggest that search for all the food for African Grey parrots. Make a wholesome diet plan for your Grey parrot.
A healthy parrot is the happiest one. Despite the type and quality of food, you should also decide the number of meals per day and the proportion of each food kind. This is what matters a lot. Do share your views in the comment section.
References